The statistics below are from the 2020 Point in Time (PIT) count that is required of all communities throughout the County. The PIT count takes place on an annual basis.
528 were people in families and 513 single adults; 1,041 total people
30% of all persons identified as homeless were children < 18 years old
83%  of the adults in homeless families were female
56% of adults in homeless families were employed
32% of all families were homeless due to domestic violence
36% of single adults suffered from serious mental illness and/or substance abuse
34% of single adults were determined to be chronically homeless
34% of single adults > 55 years old
Poverty in Fairfax coupled with the expensive rental market results in a high volume of requests for assistance each year. In FY20, the County received the following requests:
EMERGENCY FOOD
6,359
EMERGENCY SHELTER
2,245
HOUSING ASSISTANCE
 10,828
ONGOING FOOD ASSISTANCE
3,818
UTILITY ASSISTANCE
2,166
MEDIAN HOUSEHOLD INCOME
$128,374
http://www.fairfaxcounty.gov/demogrph/gendemo.htm
UNEMPLOYMENT RATE AS OF MARCH 2021
4.6%
https://fred.stlouisfed.org/series/VAFAIR5URN 
AVERAGE MONTHLY RENT FOR 2019
 $1,877
https://www.fairfaxcounty.gov/demographics/sites/demographics/files/assets/demographicreports/fullrpt.pdf
POPULATION LIVING IN POVERTY
 6.17%
https://datausa.io/profile/geo/fairfax-county-va#economy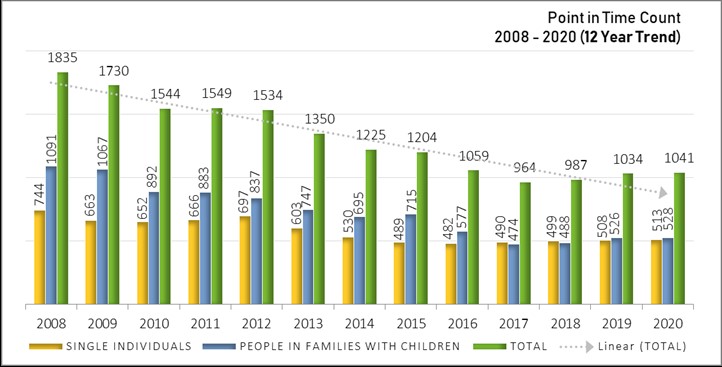 Chart displays 43% reduction in homelessness in Fairfax County since 2008. This is a significant reduction, but we still have a long way to go, which is one of the reason initiatives like the Collaborative are so important.
 https://www.fairfaxcounty.gov/homeless/highlights-2020-point-time-count-people-experiencing-homelessness#:~:text=There%20were%201%2C041%20people%20who,conducted%20on%20January%2023%2C%202019.